Regions Croatia
Districts Croatia
Tourist region list Croatia
Cities Croatia
Points of interest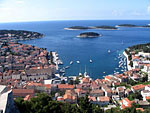 1. Hvar 2. Hvar The fortress Španjola 3. Hvar harbour
Location
Hvar is a city and port on the island of southern Hvar, part of Split-Dalmatia...
1. Hvar 2. Hvar The fortress Španjola 3. Hvar harbour
Location
Hvar is a city and port on the island of southern Hvar, part of Split-Dalmatia County. It is situated on a bay in the south coast of the island, opposite from the other nearby towns of Stari Grad and Jelsa.
Sights
The city of Hvar has a long and distinguished history as center for trade and culture in the Adriatic. The city is a popular port of call for yachts sailing around the Adriatic, especially in the summer months. There are regular catamaran ferry services from the port between Hvar and Split, Brač, Korčula, Lastovo and Vis.
Weather Hvar
Hotel 22286 in Hvar
Guesthouse Pension 10116 in Hvar
Apartments and holiday hosues in Hvar


Eva Myšková
---
1. Seget Vranjica beach 2. Seget Vranjica coast 3. Seget Vranjica port
Location
Seget Vranjica is a small tourist resort located 5 km north of Trogir, in the direction of Šibenik and 8 km from the international airport of Split.
Pleasant stay
Seget Vranjica has everything which is necessary for a pleasant and peaceful stay in a beautiful Mediterranean environment. Because of the vicinity of several ACI marines and the ferry port Split which connects you to numerous Dalmatian destinations, it is the ideal starting point for seeing the Adriatic.
Weather Seget Vranjica
Beautiful Hotels in Seget Vranjica
Apartments and holiday houses in Seget Vranjica


Eva Myšková
---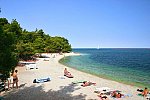 1. Savudrija beach 2. Savudrija lighthouse 3. Savudrija camp
Location
Savudrija is a coastal settlement in northwestern Istria, in Umag county. It has developed from a fishing village into a pleasant holiday centre.
Lighthouse
The main attraction of the settlement is a 29 m high lighthouse, the northernmost in Croatia and reputed to be the oldest on the Adriatic Sea. Three kinds of wind meet here, so the area is popular with windsurfers.
Weather Savudrija
Beautiful hotels in Savudrija
Guesthouses in Savudrija
Rezidencija Skiper Apartments in Savudrija


Eva Myšková
---