Regions Croatia
Districts Croatia
Tourist region list Croatia
Cities Croatia
Points of interest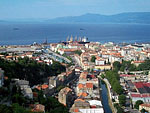 1. Rijeka aerial view 2. Rijeka promenade 3. Rijeka city tower
Seaport
Rijeka is the principal seaport and the third largest city in...
1. Rijeka aerial view 2. Rijeka promenade 3. Rijeka city tower
Seaport
Rijeka is the principal seaport and the third largest city in Croatia. Historically, because of its strategic position and its excellent deep-water Port of Rijeka, the city was fiercely contested, especially between Italy, Hungary, and Croatia, changing hands and demographics many times over centuries.
City
Rijeka is the center of Primorje-Gorski Kotar County in Croatia. The city''s economy largely depends on shipbuilding and maritime transport. Rijeka hosts the Croatian National Theatre as well as the University of Rijeka, founded in 1973 but with roots dating back to 1632. By ferry you can get from Rijeka to another croatian seaports as Split or Dubrovnik.
Weather Rijeka
Beautiful hotels in Rijeka
Guesthouses in Rijeka
Apartments and holiday houses in Rijeka


Eva Myšková
---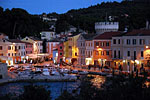 1. Veli Lošinj at night 2. Veli Lošinj marina 3. Veli Lošinj
Location
Veli Lošinj is a village on the southern island of Lošinj in Primorje-Gorski...
---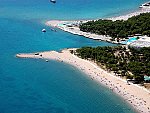 1. Šibenik promenade 2. Šibenik camp 3. Šibenik Cathedral of St. James
Location
Šibenik is a historic town in Croatia, located in central Dalmatia in Šibenik Knin county where the river Krka flows into the Adriatic Sea.
Tourist center
Šibenik is a political, educational, transport, industrial and tourist center of Šibenik-Knin county.
Sights
The central church in Šibenik, the Cathedral of St. James, is on the UNESCO World Heritage list. Several successive architects built it completely in stone between 1431 and 1536,both in Gothic and in Renaissance style. The interlocking stone slabs of the Cathedral's roof were damaged when the city was shelled by Serbian forces in 1991. The damage has since been repaired. Šibenik is also called "Krešimirov grad" (Krešimir's city) because croatian King Petar Krešimir lived in this city.
Weather Šibenik
Beautiful hotels in Šibenik
Guesthouses in Šibenik
Apartments and holiday houses in Šibenik

Eva Myšková
---