Regions Croatia
Districts Croatia
Tourist region list Croatia
Cities Croatia
Points of interest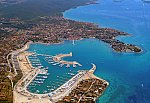 1. Sukošan aerial view 2. Sukošan beach. 3. Sukošan sea.
Location
Sukošan is a village in Dalmatia. It is located along the Adriatic tourism road between Zadar and Biograd na Moru.
Holiday resort
Sukošan is a beautiful holiday resort, with a spacious and cultivated long coastline, numerous intimate coves and clean clear sea. Known as a nautical center, Sukošan is a site of Zlatna luka Marina, the Tustica Nature Complex, pebble beaches, comfortable camping sites, distinguished buildings, olive groves, vineyards, hospitable people and tradition.
Weather Sukošan
Hotels, apartments, guesthouses and holiday houses in Sukošan.

Beautiful hotels in Sukošan
Guesthouses in Sukošan
Apartments and holiday houses in Sukošan


Eva Myšková
---
Category of hotels Sukošan
For these who decided visit Sukošan and surroundings is PensionHotel able to satisfy all wishes about accommodation for singles or groups, for short business trip and long vacation. You can find here luxury wellness hotels with many stars, which offer comfort and all facilities like swimming pool, sauna, fitness, terrace, etc.
Anyone who likes peace and privacy, choose from a selection of small and cheap family hotels in Sukošan, where the atmosphere is almost home and accommodation is suitable for families with children or where accept dogs and other pets.
Who will look closely, you will also find unconventional romantic accommodation. For clients in love is offering dinner with candles and hot tub with champagne. You can choose the most suitable accommodation for your trip or holidays in Sukošan, including on-line booking.