Regions Croatia
Districts Croatia
Tourist region list Croatia
Cities Croatia
Points of interest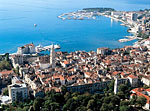 1. Split aerial view 2. Split seafront Palace of Diocletian 3. Split rock chapel on Marjan
Location
Split is by far the largest Dalmatian...
1. Split aerial view 2. Split seafront Palace of Diocletian 3. Split rock chapel on Marjan
Location
Split is by far the largest Dalmatian city and the second-largest city of Croatia. Spread over a central peninsula and its surroundings, Split''s greater area includes the surrounding seaside towns as well. An intraregional transport hub, the city is a link to numerous Adriatic islands and the Apennine peninsula, as well as a popular tourist destination.
History
Split is also one of the oldest cities in the area. While it is traditionally considered just over 1,700 years old counting from the construction of Diocletian''s Palace in AD 305, archaeological research relating to the original founding of the city as the Greek colony of Aspálathos in the 6th century BC, establishes the urban tradition of the area as being several centuries older.
Airport
Split Airport is also known as the Resnik Airport and is the third largest airport in Croatia.
Weather Split
Beautiful hotels in Split
Guesthouses in Split
Apartments and holiday houses in Split
Camping Stobreč in Split
---
Category of hotels Split
For these who decided visit Split and surroundings is PensionHotel able to satisfy all wishes about accommodation for singles or groups, for short business trip and long vacation. You can find here luxury wellness hotels with many stars, which offer comfort and all facilities like swimming pool, sauna, fitness, terrace, etc.
Anyone who likes peace and privacy, choose from a selection of small and cheap family hotels in Split, where the atmosphere is almost home and accommodation is suitable for families with children or where accept dogs and other pets.
Who will look closely, you will also find unconventional romantic accommodation. For clients in love is offering dinner with candles and hot tub with champagne. You can choose the most suitable accommodation for your trip or holidays in Split, including on-line booking.