Regions Croatia
Districts Croatia
Tourist region list Croatia
Cities Croatia
Points of interest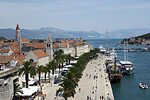 Location
Trogir is a historic town andharbour on the Adriatic coast in
Location
Trogir is a historic town andharbour on the Adriatic coast in Split-Dalmatia County. Trogir is situated on a small island between the Croatian mainland and the island of Čiovo. It lies 27 kilometres west of the city of Split.
Sights
Trogir has a 2300 years of continuous urban tradition. Its culture was created under the influence of old Greeks, Romans, and Venetians. Trogir has a high concentration of palaces, churches, and towers, as well as a fortress on a small island, and in 1997 was inscribed in the UNESCO World Heritage List.
Marina
Village and small harbor Marina lies on the Adriatic Highway 12 km west of Trogir.
Weather Trogir
Beautiful hotels in Trogir
Guesthouses in Trogir
Apartments and holiday houses in Trogir


Eva Myšková
---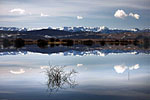 Location
Korenica is a village in Lika, located in the municipality of Plitvice Lakes, on the road between Plitvice and Udbina in...
---
Location
Pula is the largest city in Istria County, Croatia, situated at the southern tip of the Istria peninsula.
Roman times
Southern Pula has also been Istria´s administrative center since ancient Roman times. The city is best known for its many surviving ancient Roman buildings, the most famous of which is its 1st century amphitheatre, which is among the six largest surviving Roman arenas in the world. The city has a long tradition of winemaking, fishing, shipbuilding, and tourism.
Tourist destination
The city is a popular tourist destination. There is Brijuni national park or Tito´s summer residence. In the south of the city is tourist center of Punta Verudela above which rises the ramshackle Austro-Hungarian fortress.
Weather Pula
Beautiful hotels in Pula
Apartments and holiday houses in Pula


Eva Myšková
---