Regions Croatia
Districts Croatia
Tourist region list Croatia
Cities Croatia
Points of interest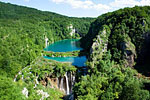 1. Plitvice Lakes national park 2. Plitvička Jezera national park 3. Plitvička Jezera water fall
Location
Plitvice Lakes is a municipality in central Croatia, in the eastern part of the...
1. Plitvice Lakes national park 2. Plitvička Jezera national park 3. Plitvička Jezera water fall
Location
Plitvice Lakes is a municipality in central Croatia, in the eastern part of the Lika-Senj region, Plitvice county, that lies in and near the eponymous Plitvice Lakes National Park.
National Park
Plitvice Lakes National Park is the argest national park in Croatia. The national park is world famous for its lakes arranged in cascades. Currently, 16 lakes can be seen from the surface. These lakes are a result of the confluence of several small rivers and subterranean karst rivers. The lakes are all interconnected and follow the water flow.
Weather Plitvice Lakes
Beautiful hotels in Plitvice Lakes
Guesthouses in Plitvice Lakes
Apartments and holiday houses in Plitvice Lakes
---
Category of hotels Plitvice Lakes
For these who decided visit Plitvice Lakes and surroundings is PensionHotel able to satisfy all wishes about accommodation for singles or groups, for short business trip and long vacation. You can find here luxury wellness hotels with many stars, which offer comfort and all facilities like swimming pool, sauna, fitness, terrace, etc.
Anyone who likes peace and privacy, choose from a selection of small and cheap family hotels in Plitvice Lakes, where the atmosphere is almost home and accommodation is suitable for families with children or where accept dogs and other pets.
Who will look closely, you will also find unconventional romantic accommodation. For clients in love is offering dinner with candles and hot tub with champagne. You can choose the most suitable accommodation for your trip or holidays in Plitvice Lakes, including on-line booking.