Regions Croatia
Districts Croatia
Tourist region list Croatia
Cities Croatia
Points of interest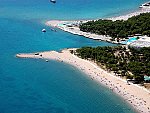 1. Šibenik promenade 2. Šibenik camp 3. Šibenik Cathedral of St. James
Location
Šibenik is a historic town in Croatia, located in central Dalmatia in Šibenik Knin county where the river Krka flows into the Adriatic Sea.
Tourist center
Šibenik is a political, educational, transport, industrial and tourist center of Šibenik-Knin county.
Sights
The central church in Šibenik, the Cathedral of St. James, is on the UNESCO World Heritage list. Several successive architects built it completely in stone between 1431 and 1536,both in Gothic and in Renaissance style. The interlocking stone slabs of the Cathedral's roof were damaged when the city was shelled by Serbian forces in 1991. The damage has since been repaired. Šibenik is also called "Krešimirov grad" (Krešimir's city) because croatian King Petar Krešimir lived in this city.
Weather Šibenik
Beautiful hotels in Šibenik
Guesthouses in Šibenik
Apartments and holiday houses in Šibenik

Eva Myšková
---
Category of hotels Šibenik
For these who decided visit Šibenik and surroundings is PensionHotel able to satisfy all wishes about accommodation for singles or groups, for short business trip and long vacation. You can find here luxury wellness hotels with many stars, which offer comfort and all facilities like swimming pool, sauna, fitness, terrace, etc.
Anyone who likes peace and privacy, choose from a selection of small and cheap family hotels in Šibenik, where the atmosphere is almost home and accommodation is suitable for families with children or where accept dogs and other pets.
Who will look closely, you will also find unconventional romantic accommodation. For clients in love is offering dinner with candles and hot tub with champagne. You can choose the most suitable accommodation for your trip or holidays in Šibenik, including on-line booking.