Regions Germany
Districts Germany
Tourist region list Germany
Cities Germany
Points of interest
Kandern town
Kandern is a small town in the district Lörrach in Baden-Württemberg, in...
Kandern town
Kandern is a small town in the district Lörrach in Baden-Württemberg, in the foothills of the Black Forest.
Sights
Kandern has a museum of local history and ceramics. There is also a copy of the "von Kandern Goldenen Sau", a drinking vessel in the form of an animal which has been donated by Margrave Georg Friedrich von Baden-Durlach in 1605 to Kandern gamekeeper. The Catholic Church in Kandern (1860/61) is the only Catholic church in the city and its surroundings. Due to its location in the triangle Kandern is an ideal base for exploring the Black Forest, Alsace and Switzerland.
Sports and swimming pool
Whether on foot, by bicycle, by public transport or by car there are many attractive destinations that await you.If you want relax, try swimming pool.
Weather in Kandern
Beautiful Hotels in Kandern
Guesthouses in Kandern
Apartments and holiday houses in Kandern
---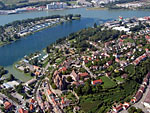 Breisach am Rhein city
Breisach am Rhein is a city on the Upper Rhine and lies on the German - French border in the district Breisgau-Hochschwarzwald.
Sights
Rheintor Gateway is one of the best preserved baroque fortresses of Europe. Museum of history displays on 400 square meters a large collection of exhibits, documents and images of the city from the Stone Age to the present. The Romanesque church of St. Stephen was built sometime between the end of the 12th century and the year 1230. The Blue House (Blaue Haus) is the former Jewish Community Center. It was built before 1691 and is now a memorial and a conference center for the treatment of Jewish history in the region.
Weather in Breisach am Rhein
Breisach city allows due to its unique location on the Rhine special range of sporting and recreational activities. On the river you can boating, rowing, but also travel by motor boats, yachts and water skiing run.
Acommodation and Hotels in Breisach
Beautiful hotels in Breisach
Guesthouses in Breisach
Apartments and holiday houses in Breisach

Eva Myšková

---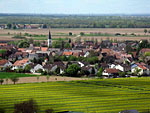 Oberrimsingen city
Oberrimsingen is part of Breisach in the district Breisgau-Hochschwarzwald. The center of Breisach is situated 10 km from the village Oberrimsingen and Freiburg is located about 15 kilometers. You will find here Rimsingen castle and parish church of St. Stephen, including the ancient Roman tower from 1737. Numerous associations and groups are now contributing to the cultural life in the village.
Guggemusik
In the city is polular music band Guggemusik. Their motto is "Just make good music and fun".
Weather in Breisach am Rhein

Click for weather forecast
Beautiful guesthouse Gasthof Löwen in Oberrimsingen

Eva Myšková
---
Category of hotels Black Forest
There are plenty of places of interest and beauty in the region Black Forest, from which you need to properly rest. Therefore, it is important to choose a comfortable accommodation to relax. On this page you will find hotels with swimming pool, wellness hotels, family hotels and romantic hotels.

Your holiday will be more pleasant because of easy online booking of hotels. Offer luxury hotels, hotels suited for families with children is just for you. Tourism in the region Black Forest will certainly bring you a lot of experience.
If you don´t select in the menu of hotels, use the category guesthouses, holiday houses, apartments or camps.