Regions Germany
Districts Germany
Tourist region list Germany
Cities Germany
Points of interest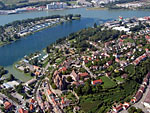 Breisach am Rhein city
Breisach am Rhein is a city on the Upper Rhine and lies on the German - French border in the district Breisgau-Hochschwarzwald.
Sights
Rheintor Gateway is one of the best preserved baroque fortresses of Europe. Museum of history displays on 400 square meters a large collection of exhibits, documents and images of the city from the Stone Age to the present. The Romanesque church of St. Stephen was built sometime between the end of the 12th century and the year 1230. The Blue House (Blaue Haus) is the former Jewish Community Center. It was built before 1691 and is now a memorial and a conference center for the treatment of Jewish history in the region.
Weather in Breisach am Rhein
Breisach city allows due to its unique location on the Rhine special range of sporting and recreational activities. On the river you can boating, rowing, but also travel by motor boats, yachts and water skiing run.
Acommodation and Hotels in Breisach
Beautiful hotels in Breisach
Guesthouses in Breisach
Apartments and holiday houses in Breisach

Eva Myšková

---
Löffingen
Löffingen is a town in the district Breisgau-Hochschwarzwald in the Land of Baden-Württemberg in the tourist...
Löffingen
Löffingen is a town in the district Breisgau-Hochschwarzwald in the Land of Baden-Württemberg in the tourist region of Black Forest.
Leisure time
The city is famous for its amusement park in the Black Forest Schwarzwaldpark. There is also a heated outdoor pools, indoor pool with sauna, spa, tennis and volleyball courts, playgrounds, trails,bowling, flying courses and amusement park with a zoo. Bikers, hikers and motorcyclist will find enough space in the vicinity, where they come into their own. In the urban areas are small remnants of the medieval castles of Burg Neu-Blumberg and Burg Stallegg.
Weather Löffingen
Beautiful hotels in Löffingen
Guesthouses in Löffingen
Apartments and holiday houses in Löffingen


Eva Myšková
---
Location
Bad Buchau is a spa town west of the town Biberach an der Riss, near the lake Federsee in the district Biberach.
Bad Buchau
The town is famous for its mud baths and mineral baths. Therapeutic Center Federsee constitutes Federsee Clinic (Department of Physical Medicine and Rehabilitation) and the Rehabilitation Castle Clinic Bad Buchau (Department of Neurology and Psychosomatic Medicine).
Sights
The Jewish cemetery was founded in 1650 and expanded several times. The oldest tombstone is from 1675. The monastery church of St. Cornelius and Cyprian is one of the first buildings in southern Germany classicism with late baroque interior, built between 1774 - 1776, which was converted by Pierre Michel d´Ixnard as a Gothic church.
Weather Bad Buchau
Beautiful hotels in Bad Buchau
Guesthouses in Bad Buchau
Apartments and holiday houses in Bad Buchau
---
Category of hotels Black Forest
There are plenty of places of interest and beauty in the region Black Forest, from which you need to properly rest. Therefore, it is important to choose a comfortable accommodation to relax. On this page you will find hotels with swimming pool, wellness hotels, family hotels and romantic hotels.

Your holiday will be more pleasant because of easy online booking of hotels. Offer luxury hotels, hotels suited for families with children is just for you. Tourism in the region Black Forest will certainly bring you a lot of experience.
If you don´t select in the menu of hotels, use the category guesthouses, holiday houses, apartments or camps.