Regions Germany
Districts Germany
Tourist region list Germany
Cities Germany
Points of interest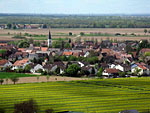 Oberrimsingen city
Oberrimsingen is part of Breisach in the district Breisgau-Hochschwarzwald. The center of Breisach is situated 10 km from the village Oberrimsingen and Freiburg is located about 15 kilometers. You will find here Rimsingen castle and parish church of St. Stephen, including the ancient Roman tower from 1737. Numerous associations and groups are now contributing to the cultural life in the village.
Guggemusik
In the city is polular music band Guggemusik. Their motto is "Just make good music and fun".
Weather in Breisach am Rhein

Click for weather forecast
Beautiful guesthouse Gasthof Löwen in Oberrimsingen

Eva Myšková
---
Location
Leinfelden-Echterdingen is a town in Baden-Württemberg, in the district Esslingen in Germany.
Sights
In...
Location
Leinfelden-Echterdingen is a town in Baden-Württemberg, in the district Esslingen in Germany.
Sights
In Leinfelden area there is the German Museum of playing cards. Important structures in Leinfelden are Leinfelder Haus from 1570, the Evangelical Church in Echterdingen with 52 m high tower (construction began in 1439), the Evangelical Church of St. Peter and Paul in Leinfelden (built between 1896-1897), Evangelical Church of the Holy Trinity in Musbergu (from 1563 with a vaulted ceiling and a medieval tower) and the Evangelical church in Stetten (built in 1935). On the cemetery can be found the Echterdinger memorial, which commemorates the deaths of more than 100 prisoners from concentration camps, who were the victims of forced labor in building the airport. Stone Zeppelinstein reminds landing the airship LZ 4.
Weather Leinfelden-Echterdingen
Beautiful hotels in Leinfelden-Echterdingen
Guesthouses in Leinfelden-Echterdingen
Apartments and holiday houses in Leinfelden-Echterdingen
---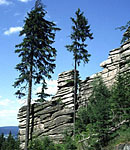 Location
Zell im Fichtelgebirge is a village in Upper Franconia in the district Hof. The...
Location
Zell im Fichtelgebirge is a village in Upper Franconia in the district Hof. The village is situated in a natural park Fichtelgebirge and it is state-approved health resort.
Sights
You will find here the Church of St. Havel, a heated outdoor pool, tennis courts, marked hiking trails, educational trails, basketball and hockey in winter and The Agricultural Museum of Upper Frank in Kleinlosnitz.
Weather Zell im Fichtelgebirge
​
Beautiful hotel Zell Gasthof Rotes Roß
Gasthof zum Valdstein in Zell
---
Berlin - Capital of Germany
The Capital of Germany is located in lakeland, lowland landscape of Brandenburg.

Berlin is one of the liveliest, most exciting and varied European cities. Lifestyle and unique atmosphere - anywhere you can feel the vibrant life of boulevards, art stalls and flea markets. 300 pubs and 7000 inns are open nonstop.

The traditional center of Berlin is Alexanderplatz square, dominated the television tower and the Cathedral of the Virgin Mary. Local street Kurfürstendamm is the business, shopping and cultural city center.

Berlin has a large number of cultural and scientific equipment, some of which achieved great popularity and reputation abroad - for example Pergamon Museum, Egyptian Museum, the Reichstag and Brandenburg Gate.

Berlin also boasts vast green areas. The best known include the Tiergarten, which lies rather in the center of town, popular for walks, known as the place where the Love Parade is held.

Accommodation in Berlin:
Hotel Steigenberger Berlin.
Hotel Eurostars Berlin.
Tips for trips
Bad Fussing - epecially during the cold season there are for "feel-good experience" relaxing thermal baths, regenerating and healthy at the same time. You have this opportunity in the many indoor and outdoor pools with graduated temperatures between 24°C and 42°C. Pamper yourself with one or the other feel-good treatment in the excellent treatment centers, or enjoy a relaxing day in one of the varied landscapes and modern sauna.
Garmisch-Partenkirchen ski: here you find conditions that make your heart beat faster: a total of over 60 km of trails, snow from November to May, well-groomed trails from easy to challenging, modern lifts, breathtaking panoramic views and cozy cabins. Neuschwanstein is one of the most visited castles in Europe. About 1.3million people annually visit "the king castle of the fairy tale".