Points of interest
Location
Brühl is a city in North Rhine-Westphalia, between Cologne and Bonn in the district Rhein-Kreis-Erft.
City
Local castles Augustusburg and Falkenlust with their gardens are as a German rococo art since 1984 registered in the UNESCO World heritage Site. In the city there is a museum of the book Max-Ernst-Museum and the Museum of Ceramics Keramikmuseum. Brühl is a very lively city where are many events as concerts, comedy, cabaret, theater and musicals. Phantasialand is one of the most important theme fun parks in Europe, offers attractions and adventures for all ages.
Weather Brühl
Beautiful hotels in Brühl
Guesthouse in Brühl
Trafohaus Apartement in Brühl


Eva Myšková
---
Beierfeld
Beierfeld is from 1 January 2005 newly formed city from Grünhain-Beierfeld in the Ore Mountain´s rural district Erzgebirgskreis in Saxony. Beierfeld has with his district Waschleithe about 4080 inhabitants. Beierfeld was created as a part of the settlement of the Ore Mountains as Waldhufen village and was first mentioned in documents as Beiervelt. It came into possession of Grünhainer monastery. In 1301 first church called Peter and Paul´s Church should be built before the founding of the monastery and is considered one of the oldest parish churches of the Ore Mountains.
Weather Beierfeld
Hotel und Restaurant Köhlerhütte - Fürstenbrunn in Beierfeld
---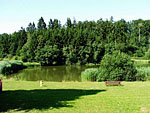 Location
Unterschneidheim is a city in Baden-Württemberg and lies in the district Ostalbkreis.
Location
Unterschneidheim is a city in Baden-Württemberg and lies in the district Ostalbkreis. Unterschneidheim is located about 20 kilometers east of town Ellwangen on the outskirts of Ries crater in the Bavarian border.
Landmarks
The fertile plains Ries offers pleasant walks and cycling trips to towns and villages, castles, churches and monasteries. Here you will experience pure pleasure of beautiful countryside. Single crests always provides a wonderful panorama.
Event
Every October you can visit one od the biggest party´s in Ostalbkreis - Feetz Mexico.
Weather Unterschneidheim
Hotel Landgasthaus zum Kreuz in Unterschneidheim
---
Tips for trips
Bad Fussing - epecially during the cold season there are for "feel-good experience" relaxing thermal baths, regenerating and healthy at the same time. You have this opportunity in the many indoor and outdoor pools with graduated temperatures between 24°C and 42°C. Pamper yourself with one or the other feel-good treatment in the excellent treatment centers, or enjoy a relaxing day in one of the varied landscapes and modern sauna.
Garmisch-Partenkirchen ski: here you find conditions that make your heart beat faster: a total of over 60 km of trails, snow from November to May, well-groomed trails from easy to challenging, modern lifts, breathtaking panoramic views and cozy cabins. Neuschwanstein is one of the most visited castles in Europe. About 1.3million people annually visit "the king castle of the fairy tale".
Berlin - Capital of Germany
The Capital of Germany is located in lakeland, lowland landscape of Brandenburg.

Berlin is one of the liveliest, most exciting and varied European cities. Lifestyle and unique atmosphere - anywhere you can feel the vibrant life of boulevards, art stalls and flea markets. 300 pubs and 7000 inns are open nonstop.

The traditional center of Berlin is Alexanderplatz square, dominated the television tower and the Cathedral of the Virgin Mary. Local street Kurfürstendamm is the business, shopping and cultural city center.

Berlin has a large number of cultural and scientific equipment, some of which achieved great popularity and reputation abroad - for example Pergamon Museum, Egyptian Museum, the Reichstag and Brandenburg Gate.

Berlin also boasts vast green areas. The best known include the Tiergarten, which lies rather in the center of town, popular for walks, known as the place where the Love Parade is held.

Accommodation in Berlin:
Hotel Steigenberger Berlin.
Hotel Eurostars Berlin.