Regions Germany
Districts Germany
Tourist region list Germany
Cities Germany
Points of interest
Tourist destination
Hanseatic city of Lübeck is a city in northern Germany and southeast of Schleswig-Holstein on the Baltic Sea, in the district
Tourist destination
Hanseatic city of Lübeck is a city in northern Germany and southeast of Schleswig-Holstein on the Baltic Sea, in the district Lübeck. The medieval town center is a UNESCO world Heritage Site. The city center is a tourist destination, especially interesting is the oldest part of Lübeck. It lies mostly on the island between the river Trave and the Wakenitz. The city is also called "City of Seven Towers" and "Gateway to the North." Port of Lübeck is Germany´s largest port in the Baltic Sea. It connects Lübeck with Scandinavia, Russia and the Baltic States.
Weather Lübeck
Beautiful hotels in Lübeck
Guesthouses in Lübeck
Apartments and holiday houses in Lübeck


Eva Myšková
---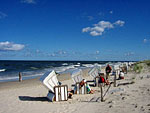 Location
Zempin is a seaside resort on the island of Usedom on the Baltic Sea. Zempin is the smallest communities on the island of Usedom in the district Ostvorpommern.
Fishing village
Romantic former fishing village with well-preserved more then forty thatched houses. In the former school building is a fishing exhibition and groceries from 1928, that has been faithfully restored with original furniture from this period. Whether you are looking for active recreation - fishing, walking - or cycling trips by bicycle trail that passes through the city and the coastal forest, or you just want to relax on the beach, you find many ways to spend your holiday.
Weather Zempin
Beautiful hotels in Zempin
Guesthouses in Zempin
---
Jagel village
Jagel is a village near the town Schleswig in the district Schleswig-Flensburg, in federal country...
Jagel village
Jagel is a village near the town Schleswig in the district Schleswig-Flensburg, in federal country Schleswig-Holstein. Jagel lies on a sandy area and on the surrounding landscape, where was mined the peat.
Jagel championship
In the village Jagel in the old gravel pit are located facilities for water skiing. Championships in this sport are taking place here.
Weather Jagel
---
Category of hotels Baltic Sea
There are plenty of places of interest and beauty in the region Baltic Sea, from which you need to properly rest. Therefore, it is important to choose a comfortable accommodation to relax. On this page you will find hotels with swimming pool, wellness hotels, family hotels and romantic hotels.

Your holiday will be more pleasant because of easy online booking of hotels. Offer luxury hotels, hotels suited for families with children is just for you. Tourism in the region Baltic Sea will certainly bring you a lot of experience.
If you don´t select in the menu of hotels, use the category guesthouses, holiday houses, apartments or camps.