Regions Germany
Districts Germany
Tourist region list Germany
Cities Germany
Points of interest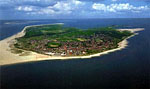 ---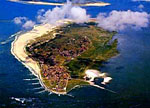 Location
Baltrum has a length of 5 km, a width of up to 1,4 kilometers and an area of currently about 6.5 square kilometers. Thus, it is permanently the smallest in area of the seven inhabited East Frisian Islands. The city is in region
Location
Baltrum has a length of 5 km, a width of up to 1,4 kilometers and an area of currently about 6.5 square kilometers. Thus, it is permanently the smallest in area of the seven inhabited East Frisian Islands. The city is in region Lower Saxony in Germany.
Island
In the west Baltrum is separated by sea Wichter Ee from Norderney and in the east by sea Accumer Ee from Langeoog. They say, that the island called Baltrum because it were so small that was "bald rum" ("soon rum"). This alludes to the small size of the island. However, a complete circumnavigation of the island is about 15 km.
Weather Baltrum
Beautiful hotels in Baltrum Island
Guesthouses in Baltrum Island
Apartments and holiday houses in Baltrum Island


Eva Myšková
---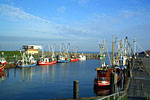 Location
Dornum is a village in East Friesland and belongs to the district Aurich in Lower Saxony. The village lies near the...
---
Category of hotels East Frisia
There are plenty of places of interest and beauty in the region East Frisia, from which you need to properly rest. Therefore, it is important to choose a comfortable accommodation to relax. On this page you will find hotels with swimming pool, wellness hotels, family hotels and romantic hotels.

Your holiday will be more pleasant because of easy online booking of hotels. Offer luxury hotels, hotels suited for families with children is just for you. Tourism in the region East Frisia will certainly bring you a lot of experience.
If you don´t select in the menu of hotels, use the category guesthouses, holiday houses, apartments or camps.