Regions Germany
Districts Germany
Tourist region list Germany
Cities Germany
Points of interest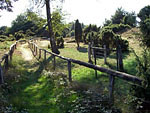 Location
The city Schermbeck lies between the regions Lower Rhine and Münsterland in the Hohe Mark nature reserve in the district
Location
The city Schermbeck lies between the regions Lower Rhine and Münsterland in the Hohe Mark nature reserve in the district Wesel in the state of North Rhine-Westphalia. There is a nature reserve Loosen Berge and Dämmer Wald to the west of the town. Marked trails, ballooning, canoeing, golf, horse riding, fishing and more is available for active recreation for bikers and hikers.
Weather Schermbeck
Accommodation
---
Location
Stemwede is a city in North Rhine-Westphalia in the district Minden-Lübbecke.
Location
Stemwede is a city in North Rhine-Westphalia in the district Minden-Lübbecke. It is situated in a natural park Dümmer.
Stemwede
Museum in the former Levern parish from 1714 shows the local history of the monastery and the village of Levern. Seeing are exhibits of contemporary household, equipment for spinning and weaving and old costumes of the region. The castle Haldem is an old castle with castle park of about 8 hectares. Around the city there are four nature reserves. There are a swamp and wetlands with a variety of plant and animal species.
Weather Stemwede
The Stemweder Open Air is one of the oldest outdoor festival in Germany. With a total of about 20,000 visitors annually is the largest event of its kind in the region.
Accommodation
---
Location
The city Dorsten lies on the transition of southern Münsterland to northern Ruhr in North Rhine-Westphalia. Dorset belongs to the district Recklinghausen. Town of Dorsten is on the lower reach of the river Lippe about 24 km from the mouth into the Rhine.
Attractions
The most important museum in Dorsten is the Jewish Museum of Westphalia. Another memory is an almost 400 year old mill Tüshaus-Mühle in the part Deuten Dorsten, which is a technical monument and also has a small museum. Visit tropical world Atlantis where you can enjoy sauna, fitness and swimming pool.
Weather Dorsten
---
Category of hotels Teutoburg Forest
There are plenty of places of interest and beauty in the region Teutoburg Forest, from which you need to properly rest. Therefore, it is important to choose a comfortable accommodation to relax. On this page you will find hotels with swimming pool, wellness hotels, family hotels and romantic hotels.

Your holiday will be more pleasant because of easy online booking of hotels. Offer luxury hotels, hotels suited for families with children is just for you. Tourism in the region Teutoburg Forest will certainly bring you a lot of experience.
If you don´t select in the menu of hotels, use the category guesthouses, holiday houses, apartments or camps.