Regions Germany
Districts Germany
Tourist region list Germany
Cities Germany
Points of interest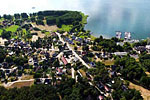 1. Diensdorf Radlow Panorama 2. Diensdorf-Radlow Scharmützelsee 3. Diensdorf-Radlow Scharmützelsee
Village
Diensdorf-Radlow is a village in the western part of the district Oder-Spree in the federal state of Brandenburg. The village lies on the eastern shore of Lake Scharmützelsee, about five kilometers south of Bad Saarow. Quiet village surrounded by forests with a nearby lake offers many opportunities for hiking and peaceful holiday.
Weather Diensdorf-Radlow
Hotel Haus Seeterrassen in Diensdorf-Radlow
Hotel Haus am See in Diensdorf Radlow
---
1. Cottbus Old Town Square 2. Cottbus Evangelical Church of St. Nicholas 3. Cottbus Tower
Location
Cottbus is a town in eastern Germany. Cottbus has the status of a district town. It is the largest city in Lower Lusatia and lies on the middle of the river Spree, which forms the boundary between Lusatia in the south and Blato in the north.
Cottbus
It is the second largest city of Potsdam in Brandenburg. The city of Cottbus has a variety of theaters, theater companies and ensembles. Schiller State Theatre on the square was built in 1907/1908 in Art Nouveau style. Old Town Square with a fountain was once an important commercial center. It is surrounded by the original half-timbered houses. Evangelical Church of St. Nicholas is the late Gothic brick building from the 14th century and is the largest church in Lower Lusatia. Currently is town presented as one of the greenest cities in Germany. Extensive parks, alleys and sidewalks form a green belt along the river Spree.
Weather Cottbus
The Film Festival Cottbus is a Festival of East European Cinema and is a yearly event in Cottbus Film Festival. Since 1991 The festival takes place each November and provides a comprehensive overview of the current film productions of the entire Central and Eastern European region.
Accommodation
Beautiful hotels in Cottbus
Guesthouses in Cottbus


Eva Myšková
---
1- Thermalsolebad Saarow spa. 2- Saarow port. 3- Saarow spa in the park.
Location
Bad Saarow-Pieskow is located in county Oder-Spree in region...
---
Category of hotels Spreewald
There are plenty of places of interest and beauty in the region Spreewald, from which you need to properly rest. Therefore, it is important to choose a comfortable accommodation to relax. On this page you will find hotels with swimming pool, wellness hotels, family hotels and romantic hotels.

Your holiday will be more pleasant because of easy online booking of hotels. Offer luxury hotels, hotels suited for families with children is just for you. Tourism in the region Spreewald will certainly bring you a lot of experience.
If you don´t select in the menu of hotels, use the category guesthouses, holiday houses, apartments or camps.