Regions Germany
Districts Germany
Tourist region list Germany
Cities Germany
Points of interest
1. Leibsch Unterspreewald 2. Leibsch Wasserwandern 3. Leibsch Spreewald
Village
Leibsch is a small village belonging to the municipality Unterspreewald in Brandenburg, in the district
1. Leibsch Unterspreewald 2. Leibsch Wasserwandern 3. Leibsch Spreewald
Village
Leibsch is a small village belonging to the municipality Unterspreewald in Brandenburg, in the district Dahme-Spreewald. On the cemetery of Leibsch 155 soldiers are buried, 73 of them are names known. There is worth mentioning open-air museum constructed from old water treatment plants.
Tourism
Tourism and catering and accommodation services are important due to the location in the picturesque Spreewald. There are two starting points for a cruise along the canal Spreewald.
Weather Leibsch
---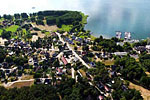 1. Diensdorf Radlow Panorama 2. Diensdorf-Radlow Scharmützelsee 3. Diensdorf-Radlow Scharmützelsee
Village
Diensdorf-Radlow is a village in the western part of the district Oder-Spree in the federal state of Brandenburg. The village lies on the eastern shore of Lake Scharmützelsee, about five kilometers south of Bad Saarow. Quiet village surrounded by forests with a nearby lake offers many opportunities for hiking and peaceful holiday.
Weather Diensdorf-Radlow
Hotel Haus Seeterrassen in Diensdorf-Radlow
Hotel Haus am See in Diensdorf Radlow
---
1- Thermalsolebad Saarow spa. 2- Saarow port. 3- Saarow spa in the park.
Location
Bad Saarow-Pieskow is located in county Oder-Spree in region...
---
Category of hotels Spreewald
There are plenty of places of interest and beauty in the region Spreewald, from which you need to properly rest. Therefore, it is important to choose a comfortable accommodation to relax. On this page you will find hotels with swimming pool, wellness hotels, family hotels and romantic hotels.

Your holiday will be more pleasant because of easy online booking of hotels. Offer luxury hotels, hotels suited for families with children is just for you. Tourism in the region Spreewald will certainly bring you a lot of experience.
If you don´t select in the menu of hotels, use the category guesthouses, holiday houses, apartments or camps.