Regions Germany
Districts Germany
Tourist region list Germany
Cities Germany
Points of interest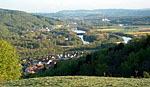 Vierlinden municipality
Vierlinden is a municipality in the district Märkisch-Oderland, in federal country...
Vierlinden municipality
Vierlinden is a municipality in the district Märkisch-Oderland, in federal country Brandenburg. Vierlinden is located 60 km east of Berlin, northwest of the village extends with its lakes and forests of the Nature park Märkische Schweiz, east and south lays the Seelow Heights and the Oderbruch.
Football
Vierlinden has own football team DJK Vierlinden.
Weather in Dinslaken
Beautiful hotel in Vierlinden
Accommodation Bed Breakfast Nina in Vierlinden
Apartments and holiday houses in Vierlinden
Eva Myšková
---
Kleinzerlang on peninsula
Kleinzerlang is a small village near the town of Rheinsberg and is located in the far north of Brandenburg in the district Ostprignitz-Ruppin. Kleinzerlang lies on a peninsula surrounded by glacial lake in the Mecklenburg Lakes and Natural Park Stechlin-Ruppiner Land. This area is characterized by typical lakes with bogs, heaths and deep pine and beech forests. There are trails for hiking, horseback riding and various cycling routes in the region. If the weather is not good you can visit our cafes and cozy pubs.
Weather Kleinzerlang
Hotel Best Western Plus Marina Wolfsbruch in Kleinzerlang
---
Green city
Frankfurt / Oder is a town situated on the left bank of the Oder River, in the district Frankfurt / Oder, in...
---
Category of hotels Brandenburg
There are plenty of places of interest and beauty in the region Brandenburg, from which you need to properly rest. Therefore, it is important to choose a comfortable accommodation to relax. On this page you will find hotels with swimming pool, wellness hotels, family hotels and romantic hotels.

Your holiday will be more pleasant because of easy online booking of hotels. Offer luxury hotels, hotels suited for families with children is just for you. Tourism in the region Brandenburg will certainly bring you a lot of experience.
If you don´t select in the menu of hotels, use the category guesthouses, holiday houses, apartments or camps.