Regions Croatia
Districts Croatia
Tourist region list Croatia
Cities Croatia
Points of interest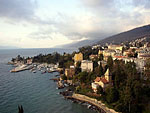 1. Opatija seacoast 2. Opatija at night 3. Opatija beach
Location
Opatija is a town in western Croatia, just southwest of Rijeka...
1. Opatija seacoast 2. Opatija at night 3. Opatija beach
Location
Opatija is a town in western Croatia, just southwest of Rijeka on the Adriatic coast. The city is geographically on the Istrianpeninsula, though it is not in Istria county, but Primorje-Gorski Kotar county.
Tourist resort
The whole sea-coast to the north and south of Opatija is rocky and picturesque, and contains several smaller winter resorts. There is a 12 km-long promenade along the entire riviera, the Lungomarefrom Volosko, via Opatija, to Lovran. After Dubrovnik, Opatija is form many years the second most popular place in the Adriatic for tourists.
Weather Opatija
Beautiful hotels in Opatija
Guesthouses in Opatija
Apartments and holiday houses in Opatija


Eva Myšková
---
Category of hotels Opatija
For these who decided visit Opatija and surroundings is PensionHotel able to satisfy all wishes about accommodation for singles or groups, for short business trip and long vacation. You can find here luxury wellness hotels with many stars, which offer comfort and all facilities like swimming pool, sauna, fitness, terrace, etc.
Anyone who likes peace and privacy, choose from a selection of small and cheap family hotels in Opatija, where the atmosphere is almost home and accommodation is suitable for families with children or where accept dogs and other pets.
Who will look closely, you will also find unconventional romantic accommodation. For clients in love is offering dinner with candles and hot tub with champagne. You can choose the most suitable accommodation for your trip or holidays in Opatija, including on-line booking.