Regions Czech
Districts Czech
Tourist region list Czech
Cities Czech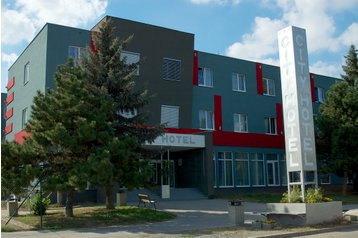 Max. capacity
: 145
Number of rooms
: 61
Pets
: Yes
&nbsp
Number of rooms
: 70
Pets
: Yes
Hotel



Person / night
36 €
$42
&nbsp

Max. capacity
: 36
Number of rooms
: 16
Number of apartments
: 1
Pets
: Yes
Hotel



Accommodation Hotel Gregor Brno - Hotels in Brno Czech Republic
OFFERS: accommodation in a 1-2-bed rooms, 2 comfortable apartments, 2 family attic rooms. Air-conditioned.

ROOMS: equipped with a bathroom, television, satellite, telephone and the Internet.
PRICES
Prices (excluding fairs) - per person per night, including VAT and breakfast buffet.
• single room 730, - CZK / 32 EUR
• Double room 1.230, - CZK / 53 EUR
• Triple room 1.690, - CZK / 73 EUR
• Suite 1-2L 1.440, - CZK / 63 EUR
• Suite - bed for 1 person 510, - CZK / 22 EUR

SERVIS: The possibility of full board. We corporate receptions, balls, weddings in the hall with a capacity of 250 persons. Parking is guarded in the hotel.
&nbsp
Category of hotels Modrice u Brna in Czech Republic
Czech Republic offers many beautiful places where you can spent your free time. Czech Republic offers many opportunities for swimming and sunbathing at the lakes and ponds. Also for lovers of winter sports offers mountains with ski slopes. There are many interesting historical places and cultural sights.
For these who decided visit Modrice u Brna and surroundings is PensionHotel able to satisfy all wishes about accommodation for singles or groups, for short business trip and long vacation. You can find here luxury wellness hotels with many stars, which offer comfort and all facilities like swimming pool, sauna, fitness, terrace, etc.
Anyone who likes peace and privacy, choose from a selection of small and cheap family hotels in Modrice u Brna, where the atmosphere is almost home and accommodation is suitable for families with children or where accept dogs and other pets.
Who will look closely, you will also find unconventional romantic accommodation. For clients in love is offering dinner with candles and hot tub with champagne. You can choose the most suitable accommodation for your trip or holidays in Modrice u Brna, including on-line booking.